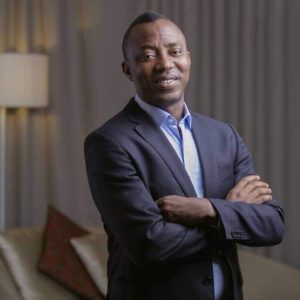 The presidential candidate of African Action Congress, Omoyele sowore is still being held unjustly in nigeria.
Comrade sowore was arrested in the middle of a dead night on august 3rd 2019 for speaking truth to power. After his unlawful arrest, he was detained for 5months at DSS facility in abuja and thereby restricted to abuja (City arrest) for 3 years. Sowore would be the third person to be restricted to a city in the history of Nigeria after chief obafemi awolowo and pa imoudu.
During the course of his trials, sowore has been severally and severely attacked and faced with brutality from both the police and sponsored thugs.
He lost his brother, who was shot at by unknown gunmen, to the cold hands of death and was unable to travel to his hometown to mourn.
Also, during his unjustly restriction to abuja, he has been arrested and rearrested overtime and despite his tribulation and inconveniences, the AAC flagbearer has out of concern, campaigned and secure the release of several individuals, groups of people, known and unknown, who have been unjustly arrested and detained.
On March 21, 2022. The federal high court in abuja declares (#RevolutionNow) sowore's arrest and detention illegal and award him damages against the lawless dss.
Sowore remains the only presidential candidate that cannot travel out of the country for his campaigns due to an unjust court order.
As of the time of filing this report, the presidential candidate , Omoyele sowore is still restricted to Nigeria, his passport seized and unable to travel out of the country and hasn't seen his immediate family, wife and kids in 4 years.
Sowore is the only presidential candidate who as an activist has been consistent in demanding justice, fairness and equity for the Nigerian people.