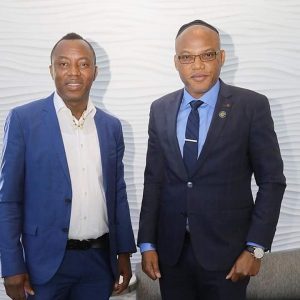 The presidential candidate of African Action Congress, Omoyele Sowore has said Kanu is a political prisoner as far as he's concerned, and he will be released unconditionally. The human right activist and said during a live show with AY comedian.
"I am not the only one who feels this way. Our court has taken a judicial decision that Kanu has no case to answer, we just need a leader that respects the rule of law," Sowore said.
Addressing the issue of corruption, he said he's the only presidential candidate who has fought corruption on his own. "I have fought corruption singlehandedly and it will continue when I become president, but punishment is not enough, we must prevent corruption by putting padlock on our treasury through blockchain technology and E currency, he said".
Comrade Sowore debunked the romuor which has created negative impression that he ever jubilated when Buhari emerged as the president. He said it was completely false.
"When the PDP lost out, the looks for someone to blame for their 16years of failure.
He mainted that he posted the said video, which captured the meet and greet with his fans by himself as a journalist on Sahara TV.
"I've never worked for Buhari or anybody, I work for myself, he proclaimed.
He also mentioned that he stood behind MKO Abiola not because he worked for him during the election but because of the injustices he (Abiola) faced after the annulment of the election.
Addressing the question on devolution of power, he said he'd set up a new constitution that addresses everything the current constitution doesn't give room for. Sowore described the Nigerian constitution as illegal and problematic.
Fielding the question of visiting the former presidents of general, Sowore said he doesn't genuflect on the altars of fallen gods. He said unlike other presidential candidates, he have no godfather and he won't go to any ex presidents for endorsement.
The presidential candidate promised to to ensure the 'special' people gets special health insurance, stipends and free medication.
"I will propose a brand new law that is wholeheartedly incorporating your rights to exist in this society despite your special condition, monthly stipends that is institutionalized, he said."
Omoyele Sowore thereby urged AY Comedian to also invite all other presidential candidates who have brilliant ideas to share with the people, saying the old ones in APC and PDP has nothing to offer.