Rights activist Aisha Yesufu has doubled down on her resolve not to link her mobile number to the National Identification Number (NIN), a project championed by Isa Pantami, Nigeria's communications and digital economy minister.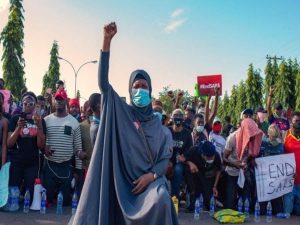 Mr. Pantami has an unassailable link to extremism documented in print, audio, and video in which he demonstrated his avowed sympathy for the Taliban and Al-Qaeda. He also described Boko Haram terrorists as his "Muslim brothers."
On Friday, Ms. Yesufu stated that if it cost her not using a phone, she would not let her private data fall into the hands of terror-linked Mr. Pantami.
"Let me repeat categorically what I have said before," said Ms. Yesufu, "I will not be linking my NIN to my phone number!"
Explaining why, she stated, "I will rather not have a phone line than willingly give my information and have it in the control of a terrorist sympathizer and his cohorts."
Despite public opprobrium directed at Mr. Pantami over the damning revelations of his association with terrorists and murderous plots to wipe out unbelievers in Jos, President Muhammadu Buhari has continued to back him.
Mr. Buhari had acknowledged that Mr. Pantami supported terrorist organizations and incited the Muslim communities against the Christians in the North through the declaration of jihad and fatwa but insisted that the "apology" of the minister was enough to heal the wounds and console the victims of his divisive past.
Garba Shehu, a presidential spokesman, had said the position of Buhari's regime on the extremist views of Mr. Pantami would have been different if the communications minister was involved in a certificate forgery like ex-minister of finance, Kemi Adeosun.