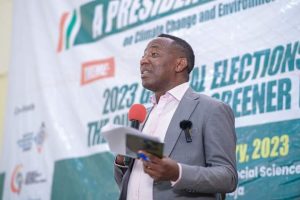 The presidential candidate of African Action Congress (AAC) in the presidential debates with his opponents on climate change and environmental concerns has said if people properly live their lifestyles, no harm would be done to the environment.
The AAC flagbearer, Omoyele Sowore while fielding questions on environmental issues has said their goal in AAC party is to also challenge the people creating environmental problems in this course of addressing the problems..
"Our goal in our party, the African Action Congress is not only to address environmental problems but also to phase out the major political parties in Nigeria that are creating environmental problems particularly the APC and PDP and their overflow party.
He urged the students to find it in their hearts to make sure to elect the right people to govern the country, people who are versatile and can interact at least with students.
He said most people think when issues of environments are being discussed, the discussion revolves around environmental sanitation, houses or growing of foods alone. Whereas the environment determines the climate changes and vice versa.
"Our lifestyles, if properly done, cannot harm the environment.
When Ken Saro Wiwa stood up and challenged the government and the international companies, it came to most people's awareness that the Niger Delta region is not only being destroyed but the activities of the oil drilling companies are also destroying the ozone layer above our heads.
He mentioned that Nigeria has had a major flood that has killed people and the problems are being left unnoticed and unaddressed.
Sowore, who is the only geographer among the presidential candidates, said there is a comprehensive way in dealing with environmental crises affecting the people.
He said one of the ways is to generate sustainable living in the country and it starts with generating electricity with all other sources that can be provided to achieve that. "We are going to jettison the use of fossil fuel in this country.
He also stated that oil resources are the biggest source of crime in the world. The biggest criminals are those who drill oil because they don't only kill people, they also kill the environment.
He said he will as the president of nigeria ensure a law that will punish environmental pollutants.