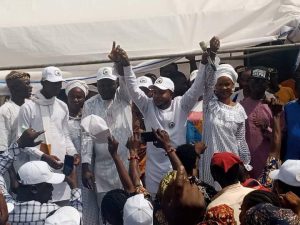 African Action Congress (AAC), Ogun State Chapter has vowed to fight unemployment, as it inaugurated a 4,000 campaign Committee in four Local Government and constituencies in the State.
The AAC Governorship Candidate, Hon. Adeyemi Harrison vowed to fight unemployment in the state by employing 10,000 youths every month, if elected as the Governor.
Adeyemi said this at the 1,000 man committee inauguration on Sunday, which was held in Abeokuta South and Odeda Local Government Area in Ogun State
While addressing journalists, Harrison disclosed that he is interested in reviving Ogun State as he promised to employ not less than 10,000 youth every month.
He explained that youths in every district would be employed, stressing that he would complete all the road projects of the former Governor Ibikunle Amosun across Ogun State.
Meanwhile, the Party Chairman in Ogun State, Mr Adesina Afolabi, added that the inauguration of 1,000 man campaign committee at each local government has covered four major local governments so far, and would span into other local government areas in the course of the campaign.
He explained that the 4,000 man campaign committee inauguration would see to the mobilisation of electorates for the party and it's candidates.
In his words, "1000 Campaign committee are meant to sensitize the voters accross there LG Area and we have done four local governments so far.
"Abeokuta South, Odeda Local Government, Ijebu North and East LG, Ijebu Ode LG and we have Inaugurate 4,000 so far in 4 LG area
"The expectations are to go to various community to mobilize voter's and to Mobilize more members into the party and ask them not to vote for Thieves." Afolabi submitted.
In the same vein, the Candidate, Harrison lamented the denial of local government autonomy, saying traditional rulers and local communities would be affected.
He added that during his administration, Local Governments in the state would be given autonomy, fostering progressive development in the communities.
Speaking on agriculture, Hon. Harrison pledged that he would revive the nine reserve areas for Cotton, Rubber and Timbers in Ogun State, lamenting that only one is functioning among the nine reserves.
He also stated that he would make education free for tertiary institutions in Ogun state and also make sure both federal government roads and the state-owned roads in Ogun state are motorable.
He therefore urged Ogun residents not to vote for the wrong party as they have done in the past.
credit: eagleforesight.com.ng