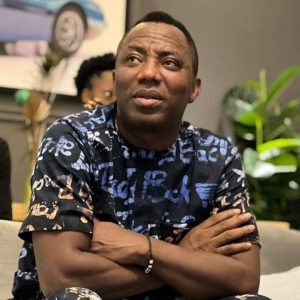 The presidential candidate of African Action Congress, Omoyele Sowore has said Nigeria practices capitalism for the poor and socialism for the rich. He made this statement while speaking on the 'state of the nation' in economy aspect, at the Nigerian bar association and presidential candidates conference.
"Nigeria practices capitalism for the poor [go and work hard]; and socialism for the rich [sit back and get waivers, sit back and buy companies that we spent billions to make for peanuts, and we will still give you grants.
"The Nigerian economy needs to change its philosophy. The economy of Nigeria since the military took over had a different makeup dictated by the world bank and the IMF(structural adjustment program).
"It has been imposed on Nigerians to the extent that 'Nigeria practices capitalism for the poor and socialism' for the rich.
Until the Nigerian economy serves the Nigerian people in such a way that the Norwegian economy serves Norwegian people ( nordic socialism), we are not going to get anywhere, he said."
He mentioned that students get paid to go to school in Denmark, unlike Nigeria that shut down its schools for 9 months and expects progress.
"Nigerians ruined their country with people who have no knowledge. A knowledge based economy is what we need.
He said the leaders of Nigeria are economic terrorists. "They are terrorizing our economy, disables, treasuries, they are terrorizing people by making sure they don't have jobs, they terrorize workers by paying them slave wages.
He described those who are managing the monetary policies as a glorified bureau de change organization and in conclusion, Mr Sowore said that Nigeria is a country of talkers and he wants to be a doer.