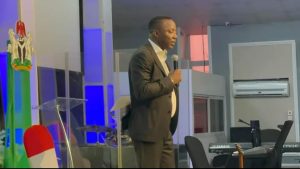 Addressing a question about his credentials and his source of income today on Space FM Ibadan, Presidential candidate of the African Action Congress, Mr. Sowore said he went to the university of lagos for his B.sc degree(1982-1995), he obtained his masters degree in public administration, columbia university. He founded Sahara reporters, an online media platform and he has also taught in two universities in the United states of america.
He said his political activities are also being sponsored by the people, using fundraising.
He proceeded further to make a case for electronic voting as a panacea for electoral malpractices.
Mr. Sowore said the way forward to rigging of election, over voting, ballot snatching, and electoral violence in Nigeria is electronic voting.
He said if people can do money transactions on their mobile gadgets, they should also be able to vote their leaders online like it is done in Brazil, instead of going through the stress of traveling interstates and queuing.
He mentioned that nigeria leaders are not ready for this advancement because it would be hard for them to rig and get involved in other forms of electoral malpractices to help them win.
Addressing questions on insecurity, he said mobilization of armed forces can only do little. Instead, the roots of the problem, which is the high rate of unemployment, poverty and education underfunding should be looked into and resolved.
Mr. Sowore further urged the people of Nigeria to forsake the structures that have brought them and the country by extension to no good.
He said the person that should be given the opportunity to govern the country should be someone of unquestionable character. The one who has pro people ideas and emotional intelligence, exposure and intellectual capacity, irrespective of the tribe, ethnic and religion should be elected to change the status quo.