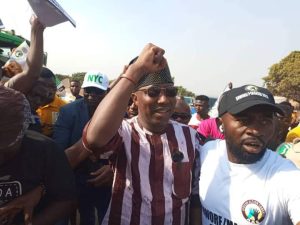 Sowore on channels tv, in an interview with roadmap has said he will win the presidential election comes 2023. Omoyele, the presidential candidate of African Action Congress said he will win the coming election because a lot of Nigerian people are tired of the bad system.
"A lot of people in their millions are tired of this old system of doing politics. They are tired of hunger, starvation, scarcity, terrorism, banditry, corruption in this country and they have indicated that they want to turn things around and I have presented myself to do so and I have made very powerful arguments wherever I have been given the opportunity.
"My credibility and consistency of thirty years can be attested to. Nigerians don't want the same people who were governors for eight years and ruin their states. They don't want people who have never stood up for anything. I have been standing up for the Nigerian people for most of my life and I have never been remunerated for it, and I am not looking for remuneration.
"I just want to keep doing what I know how to do best, which is to stand up for the people who are vulnerable in our society and those who may not be vulnerable but deserve a better place to live. Not everybody wants to leave Nigeria, some people want to stay. And there are so many people who leave
and later discover the grass is not as green as thought on the other side.
He said he is standing up for them and he believes, having been made and given the opportunity to present himself, Nigerians can see transparency through him and vote for a leader that can work for them .
"A leader that is capable, a leader that has integrity, a leader that believes in progress and prosperity for the country, a leader that has ideas and is able to present them and share them with many people.
"I don't just think I will win, I know I will win. Because it will be a win-win for the Nigerian people and I believe they will take that decision sooner than later, he said."