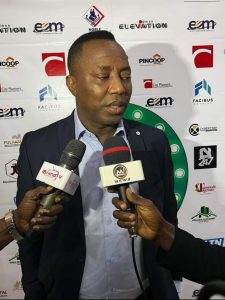 Presidential candidate of the African Action Congress, Omoyele Sowore has said he has never stopped campaigning since the 2019 elections. He made this statement at an interview with Jamz FM Ibadan. According to the human rights activist, the difference this time around is that there is an alliance with another political party with similar ideology and the people who believed him more than the last time would entrust their votes in electing him.
"If for instance you didn't believe me when i said in 2019 that there is police brutality, you would probably believe after #Endsars. If you did not believe in 2019 when i said the economy is hard, you are probably feeling it now because you've seen what the value of naira has become. I've kept speaking about these issues and putting out ideas to solve them and nobody can say it didn't come to pass. However, I am not in this race to become a certified protester or a prophet. I am here to change the narrative because of history, he said."
Mr Sowore refutes that he has always been talking about education, sports, economy and not only corruption and insecurity. He said he is the only presidential candidate that has joined the students in fighting for the reopening of their schools and as a sportsman, he is always involved in sports. He has talked about how to solve electricity problems and varieties of things as to challenges facing the country. Corruption in Nigeria is aided by the refusal of the system to advance the processing of wealths, he made mention in response to his explicit talk on corruption without touching other aspects.
"We can blog our contracting with blockchain technology such that the e money that is involved can be tracked to the last person. This will reduce corruption significantly, he said in addition."
Addressing the statement that people see him more as a human right activist than a politician, comrade Sowore replied that the primary job of a politician is to protect the rights of people who have elected them. "I am an honest person, that's why I don't like being referred to as a politician.
You should trust me because I have demonstrated over three decades that I can be trusted. Anybody who puts his life on the line for a course should be trusted. Politicians don't do that. They will rather sacrifice the country for their own personal interest.
He said he has no blemish record. He has never been involved in any shady business nor collected any contract before. He said one of the decisions he took when he founded Sahara reporters was never to collect any government advertisement.
My activities have shown character, integrity and resilience. Someone who has all these qualities combined together can be banked with, he said."
He further asked a rhetorical question, "who would you keep your money with, atiku tinubu or sowore?"
Addressing the question on trust, the presidential candidate said individuals should be judged based on what they choose to do in life. He said his calling is to fight for the rights of others and durings his time he brought about something that was scarce in Nigeria for a long time which was democracy.
He has stopped powerful people from abusing the rights of others. He has been a university lecturer who impacts knowledge. He has built a brand(Sahara Reporters) that employs and trains young people.
He said he has done what he chose to do very well and if he was to be a soldier, he would be a general by now.
He claimed his opponents who once governed a state before had nothing to show for it.
He said he wants to project a different example on how to be a public servant either officially or unofficially. "I have served the public as a citizen of this country and if I have the chance I will serve in an official capacity as the president.