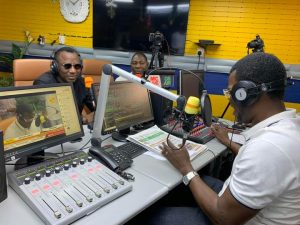 The presidential candidate of African Action Congress, Omoyele Sowore said in an interview on agidigbo 88.7FM, Ibadan that he wants to be the president of Nigeria because the country is not progressing as it should. That's why he came back to join politics to change the status quo.
He said they never trusted the politicians when they were student leaders. He benefited from awolowo's free education and he wants to replicate that. The human right activist said he would do whatever it takes to impact humanity.
He revealed that AAC couldn't have more than eighteen gubernatorial candidates out of the thirty six states due to the issues with the party usurpers.
Addressing his idea on marijuana, He mentioned that cannabis is medicinal and it has commercial value like cocoa. He said the country can generate revenue from legalizing cannabis.
Speaking about his opponents he said Atiku, the presidential candidate of PDP has been the vice president of Nigeria and his administration did not invest in education but privatized universities, making it hard for common people to go to school.
He said Obi did not build any hospital he can go to for treatment, nor build any standardized school.
He said Tinubu has no progressive record and he is not physically fit.
He disputes the news of the supposed misappropriation of his election funds now and then. I have been transparent and accountable, that was just a mere propaganda against my personality, he said.
Speaking on his relationship with the PRP, he said there is an alliance between the People's Redemption Party and his party, African Action Congress.